The latest research from Grant Thornton's International Business Report (IBR) shows that, with global optimism at an all-time high and business productivity buoyant, record levels of companies are expecting to give workers a pay rise over the next 12 months. But while investment in people is booming, investment in capital goods and research and development (R&D) has stalled. A balance must be achieved if businesses are to benefit fully from the all-round strength of the global economy.
The world gets a pay rise
Concern over hiring has given way to historically high numbers of firms expecting to give pay rises as they seek to retain top quality talent. The IBR finds that 4 in 5 companies (78%) intend to offer employees a pay rise within the next 12 months. Globally, the percentage of businesses expecting to offer an above inflation pay rise has risen to 23%. Both figures represent the highest levels recorded in 10 years of research by Grant Thornton.
Real term pay levels are driven by North America with the highest ever figure (31%), and Asia Pacific, with the highest figure since Q1 2017 (22%). On a country level, the UK figure for above inflation pay has risen 7pp to 18%. In the USA, the figure has increased by 11pp to 31%, and Mexico reports a rise of 6pp to 24%.
The projected pay increases will be welcome news for workers following a period of slow earnings growth. In many economies, including the US and UK, wages have lagged behind the cost of living. Taking the median household income in the US of $59,039*, an above inflation pay rise could add approximately $1,400 per year. [i]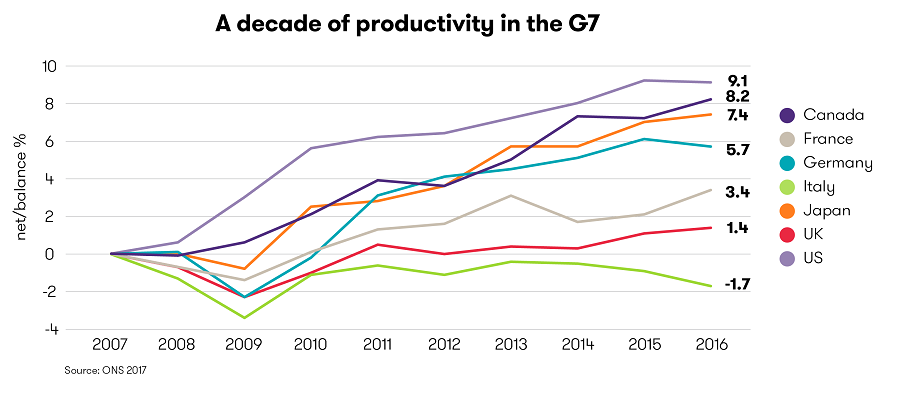 Booming productivity leads to 'war for talent'
Businesses across the globe are experiencing record levels of optimism this quarter, with net optimism globally reaching 61%. This is underpinned by a rise in productivity over consecutive quarters, with the key economies showing steady increases from 2007 to the present.
With productivity buoyant, businesses are growing increasingly concerned over the availability of skills needed to sustain and facilitate growth. The IBR shows that 36% of firms believe their growth is constrained by a lack of skilled workers. This concern is particularly prominent in Asia Pacific (43%), while the US has experienced an improvement since the last quarter with a comparatively low figure of 14%.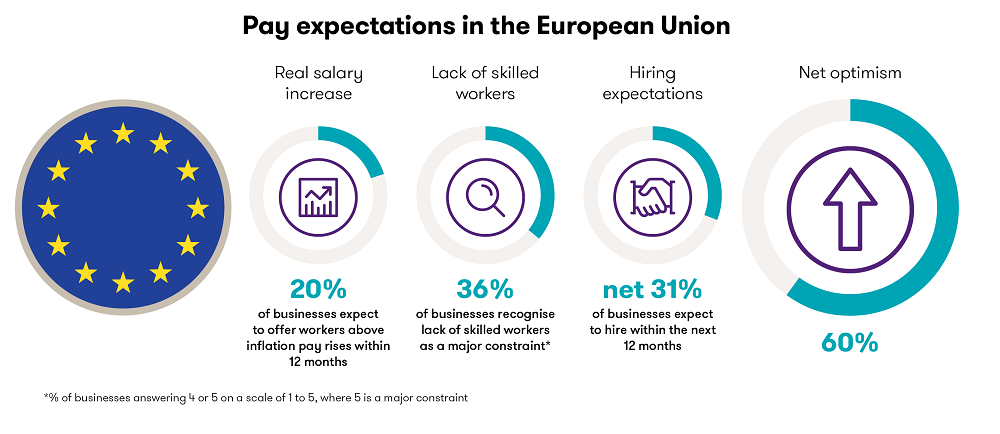 Businesses must strike a balance
Despite these positive changes, improvements must still be made if businesses are to reap the rewards of the buoyant economic outlook. The latest findings from the IBR reveal that while investment in people is rising – and despite record levels of economic optimism – business investment has stalled. Investment in plant and machinery has fallen by 2pp globally to 34%, while investment in R&D has experienced a drop of 3pp to 22%. Expectations for increased investment in new buildings remain flat for the third consecutive quarter.
The message to businesses is that a balance in investment between technology and people must be achieved if they are to benefit fully from the all-round strength of the global economy. With business undergoing changes on many fronts, from automation to big data to the gig economy, the future will require engaging both workers and infrastructure to make the most of opportunities – and navigate challenges – as they emerge.
Businesses that can achieve such a balance stand the best chance not only of reaping the benefits of the positive economic outlook, but also of staying resilient when economic conditions inevitably change.
For further information please contact us.